I Did It! The Right Plan at Last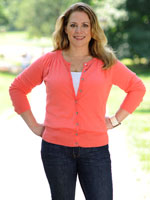 Ben Rosenweig
As told to Ashley Macha
From Health magazine
Health.com's Ali Hocart found a diet she can stick with—our new CarbLovers plan. She's lost 27 pounds so far!
I was the classic serial dieter: I tried everything from high-protein diets to plans with packaged foods, but nothing ever worked for me. Part of the problem was that I coped with stress by overeating, and I'd really go off the rails on weekends. Any weight I lost always came back.
In December 2009, I hit my max weight of 164 pounds and knew I had to do something. I'd heard about the new weight-loss plan Health's editors were developing—The CarbLovers Diet—and said, "Sign me up!" Because I work for Health.com, I was excited to be able to road-test the program and recipes in real life.
I'm a superpicky eater, so when I started CarbLovers, I was happy to see that I could choose foods I really like and wouldn't get sick of (like the plan's Black Bean Tacos—love them!). To make the most of the program, I consulted a personal trainer who recommended that I do more cardio (five or six times a week instead of just three) and a little less strength training (I stuck to two to three times a week).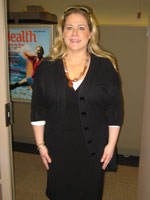 Before
I also took advantage of my support system and asked for lots of help from family, friends, co-workers, and other CarbLovers dieters. Their cheerleading really kept me going.
So far, I've dropped 27 pounds. When I started the program, I was a size 10; now I'm down to a 4. I cherish the small everyday triumphs, like actually enjoying getting dressed in the morning.
My next goal on CarbLovers is to reach 124 pounds by my 40th birthday later this month. But I already feel great, and I love that I'm inspiring friends to get their bodies back, too. There are times I walk past a store window, catch my slimmed-down reflection and think, Is that really me?
Yes, it is!
Next page: How Ali Did It
View full post on Diet and Weight Loss