4 Skinny Tricks for Enjoying a Diet Splurge Guilt-Free

By Tina Haupert
Two months later, I'm still celebrating my 30th birthday. Last Saturday, my uncle and aunt treated me to a fancy dinner at Top of the Hub, a fine-dining restaurant with gorgeous views of the city at the top of the Prudential Center in Boston. We enjoyed good conversation and lots of laughs while feasting on foie gras, lobster, red wine, and chocolate ganache cake. It was definitely a night to remember!
Even with all of that delicious food right in front of me, I didn't stress about overdoing it. I planned to indulge—it was my "birthday" dinner after all. Still, I didn't go overboard, as I may have before I found my Feel Great Weight. Here's what I did to keep my calories in check for the night.
Filled my stomach with water. Before I even took a bite of food, I drank an entire glass of water. A recent study suggests that drinking water helps fill your stomach, making you less hungry and less likely to overeat. I felt more in tune with my hunger cues, so when the appetizers and entrées were served, I didn't stuff myself.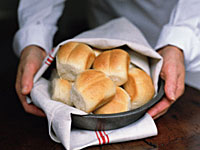 Getty Images
Skipped the breadbasket. At indulgent meals with lots of courses, I always skip the breadbasket. Dinner rolls and sliced bread are basically all the same to me. Unless there's a special or unique offering, I save my calories for later.
Tasted the appetizers, then put my fork down. Appetizers are supposed to stimulate one's appetite for the main meal—they don't constitute an entire meal. I keep this in mind and only taste each of the appetizers served at the table. Usually my husband and I split one, or if I'm dining out with friends, I try a bite or two of of their appetizers and put my fork down until my entrée is served.
Visualized half of an entrée. Once my entrée arrives, I visualize a line down the center of my plate. I eat the food on one side of the plate and save the rest to pack up with me for later. Restaurant portions are usually oversized, so this way, I don't end up eating too much. Plus I have tasty leftovers for next day's lunch!
Read Tina's daily food and fitness blog, Carrots 'N' Cake.
---
Previous posts by Tina Haupert:
4 Ways to Keep Your Waistline in Check While Traveling
5 Healthy Diner Meals
5 Tips for Getting Hooked on Weight Training
View full post on Diet and Weight Loss